PADI Divemaster
The PADI Divemaster course is your first level of professional training. Working closely with a PADI Instructor, you'll fine-tune your dive skills, refine your rescue skills and gain dive knowledge, management and supervision abilities so you become a role model to divers everywhere.
Starting from
Availability: In Stock
The PADI Divemaster Course with DIVE KAWARTHA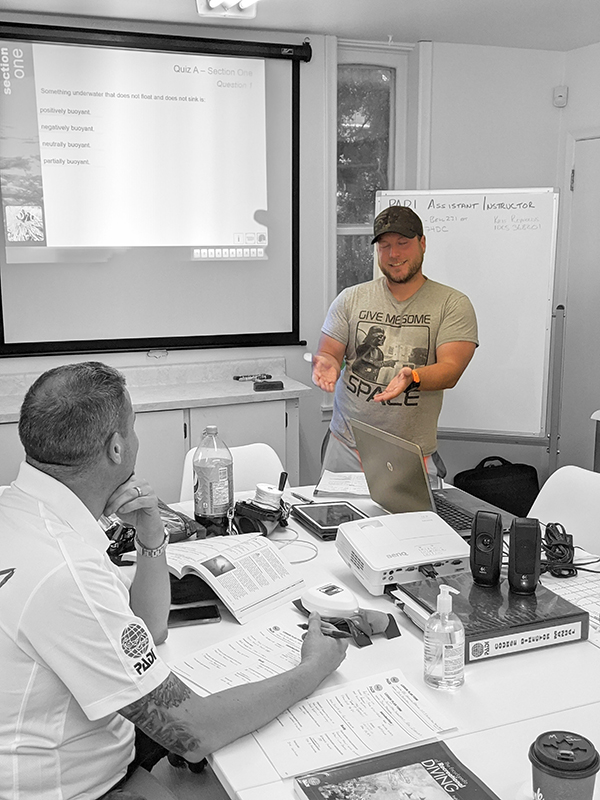 Train to be a PADI Divemaster with us in the beautiful Kawartha Lakes. Canadian diving conditions can be challenging but rewarding, and if you can manage divers here, you can do it anywhere in the world.

All Divemaster courses at Dive Kawartha are led by an IDC Staff Instructor. We've arranged our courses this way so candidates are being mentored by high level dive professionals that are practiced in mentoring instructor level courses. This both ensures our candidates receive the best possilbe experience, and also prepares you for what you can expect if you continue your journey into an instructor development program.
You'll get plenty of dives under your belt, learn to do different jobs at the dive centre, become a member of the family and most importantly, have the time of your life going pro with Dive Kawartha!
Our Divemaster Elite Experience Program Includes
DMT InternshipAll PADI Divemaster Candidate Materials
Custom embroidered Divemaster Bag
EFR Primary & Secondary Care
18 % Discount towards the following Courses

Regulator Fundamentals
Gas Blender
Fill Station Operator

Dive Kawartha DMT Cap
DK Dive Theory
Dive Kawartha "Dive Team" Polo Shirt
Dive Kawartha "Go Pro" Swag items
10 % Discount on select equipment purchases
15 % Discount on equipment servicing
Unlimited access to a training pool for skill development and practice
What You Can Teach As A Divemaster
After becoming certified as a PADI Divemaster you will be authorised to:
Supervise both training and non-training-related activities by planning, organizing and directing dives
Assist a PADI Instructor during the training sessions for any PADI Diver course
Conduct the PADI Skin Diver course and PADI Discover Snorkeling program
Conduct the PADI Discover Local Diving experience
Conduct the PADI Scuba Review program
If qualified as a Discover Scuba Diving Leader, independently conduct the PADI Discover Scuba Diving program.
Earn the PADI Digital Underwater Photographer Specialty Instructor rating to be able to teach the PADI Digital Underwater Photographer specialty.
Independently guide Open Water Diver course students on the tour portion of Open Water Diver course Training Dives 2, 3 and 4 at a ratio of two student divers per certified divemaster.
Accompany Open Water Diver students under the indirect supervision of a PADI Instructor during:Accompany student divers during Adventure Dives or Specialty training dives under the indirect supervision of a PADI Instructor.

surface swims to and from the entry/exit point and during navigational exercises
when the instructor conducts a skill, such as an ascent or descent, a Divemaster can remain with other student divers (with an individual student or buddy team)

Conduct the PADI Seal Team Skin Diver Specialist AquaMission
Conduct subsequent dives under an instructor's indirect supervision for Discover Scuba Diving participants after participants have satisfactorily completed the first dive with a PADI Instructor.
Teach Emergency First Response courses after successfully completing an Emergency First Response Instructor course.
At a glance, compare what you can teach when you continue your professional diver education.
Prerequisites
To take this course, you must be:
18 years old
A PADI Advanced Open Water Diver (or qualifying certification from another training organisation)
A PADI Rescue Diver (or qualifying certification from another training organisation)
An Emergency First Response Primary and Secondary Care (or qualifying first aid and CPR training from another organisation) course completion within the past 24 months.
Have at least 40 dives to begin the course and 60 for certification
Be fit for diving and submit a Medical Statement (PDF) signed by a physician within the last 12 months.
0 reviews for PADI Divemaster